USPTO will roll out new system permitting submissions in Word format replacing PAIR later this year – eMod: eCommerce Modernization
July 11, 2018
Posted by:

Kamila Williams

Category:

Blog
This blog will help introduce a new system (eMod) currently being developed and implemented by the United States Patent and Trademark Office (USTPO) to improve and modernize its filing and viewing system, currently known as EFS and PAIR. This new system will be fully available by the end of 2018.
             Last fall, our firm participated in Alpha/Beta Pilot Programs for eMod Patent Center modernization, and since then has been involved in few updates, training sessions and testing events to help with developing and maximizing this USPTO project regarding a new filing/viewing system for patent applications. Our firm has since also filed several applications using at least one feature of the afore-mentioned system, e.g. submitting a specification of a non-provisional application in Word text (example below).

One main advantage of submitting specification in Word text is the ability to provide the originally-written text, as opposed to converting it into PDF and thus risking erroneous inclusion of embedded forms, missing equations and/or even omitting important chemical formulas from patent application specifications.
            Another great advantage of this new feature is that anyone can practically access a Word format directly from the USPTO website, if necessary, and utilize it, for example, in preparation of continuations/divisionals.
            Naturally, even with a Word text, certain hidden errors can generate a warning message by the USPTO system when submitting and certain precautions still must be taken, but the result is worth the effort. Hidden track changes, comments, invalid fonts, abstract containing more than 150 words and others may generate such warning message (for more information, please refer to uspto.gov).
Our firm has so far utilized one additional feature in this new system (see below). Some files in Image File Wrapper are now available in Word text. This feature is helpful for retrieving Examiner's rejections of claims from the Office Action in Word if needed.

In summary, there are already many benefits that come with new eMod system. Once the finalized version of eMod Patent Center is available for every user, the advantages will be even greater. Most of them will only be recognized in time, but some of them are evident already; uploading multiple documents at a time, dragging and dropping documents for submission while using very intuitive file coding and description, come immediately to mind.
Helpful Screenshots for new eMod Patent Center
FILING INTERFACE
Landing Page:

Authentication Page: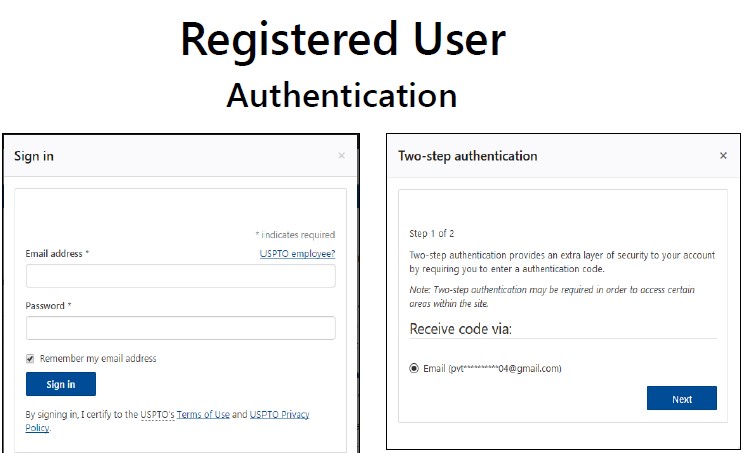 Application Selection Page:

Upload Files Page: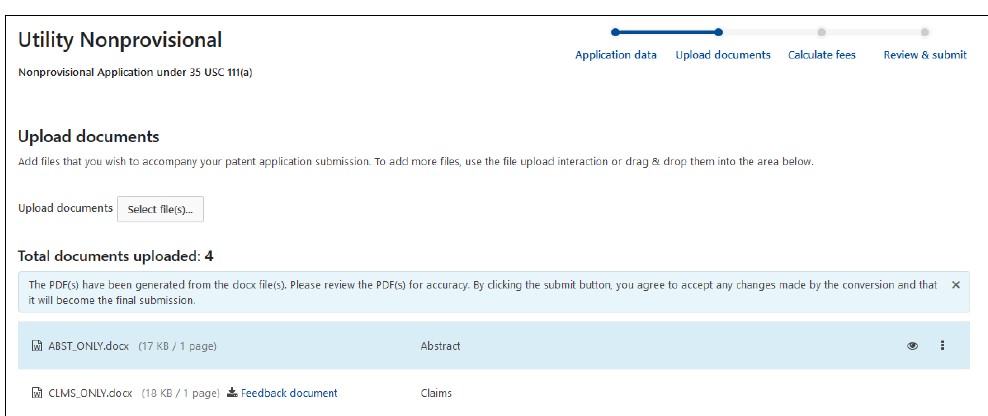 Calculate Fees Page:

Select Fees Page: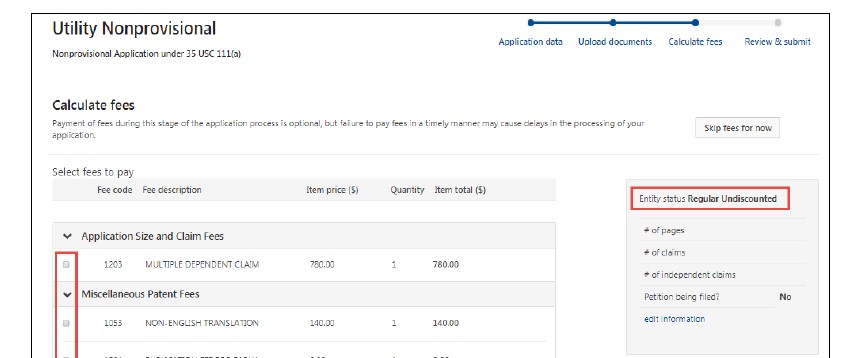 Submission Receipt Page: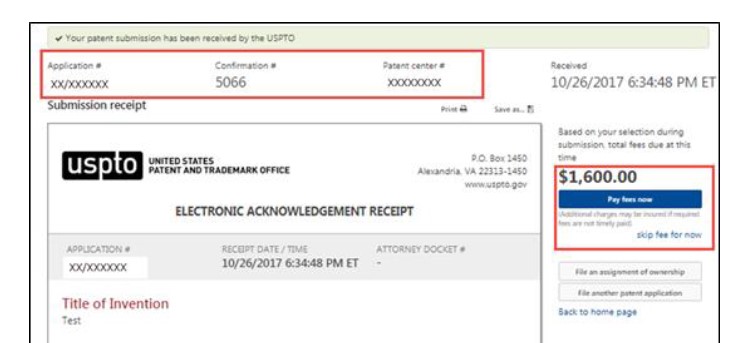 VIEWING INTERFACE:
Search for Application Page: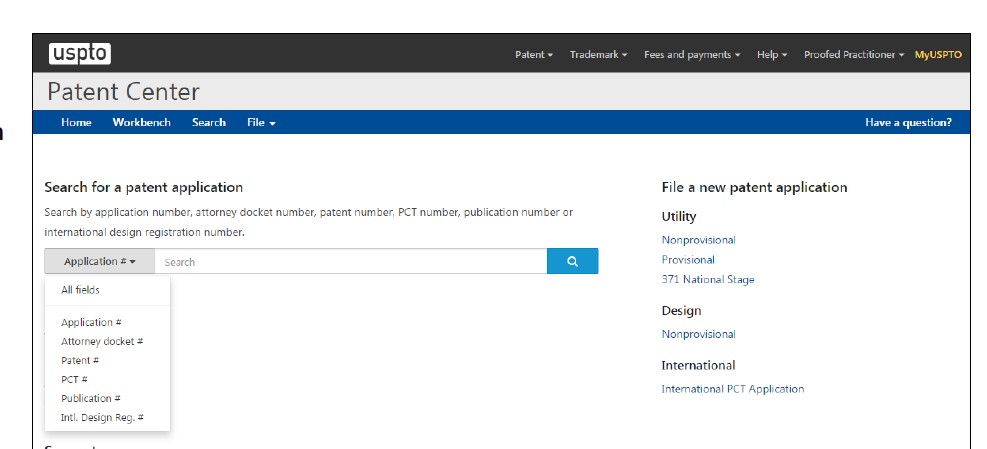 Application Bibliographic Data Page: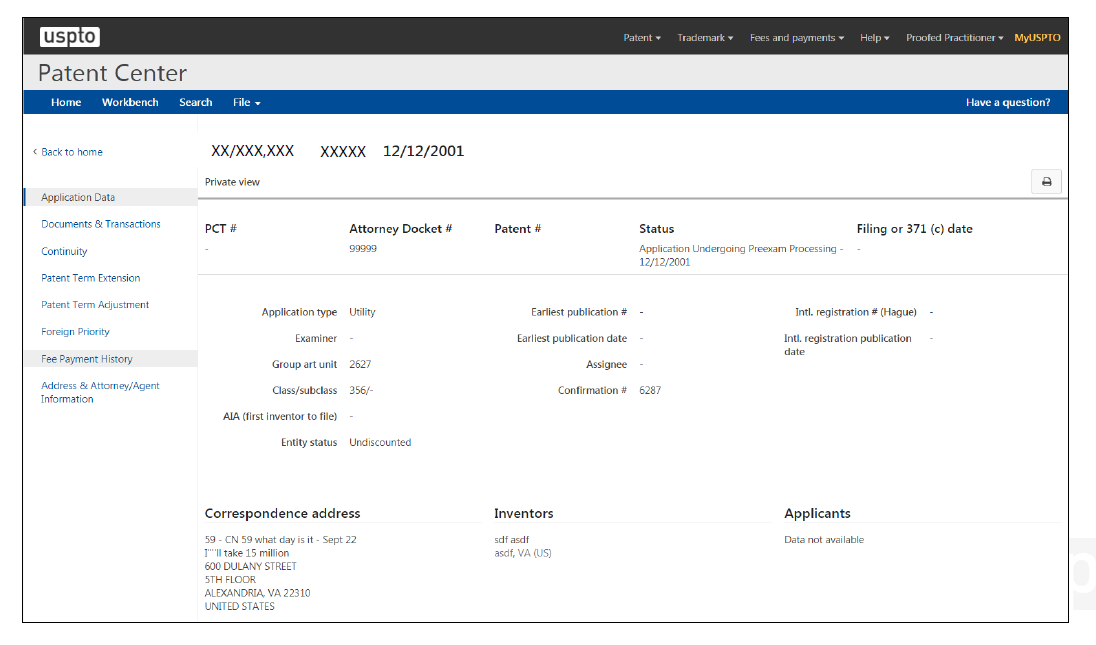 Saved Submission Page:

Patent Center
Patent Center is the new interface that will unify both platforms Electronic Filing System (EFS) and Patent Application Information Retrieval (PAIR).
Main Benefits of Patent Center:
 a)      Modernized platform to enable more efficiency for uploading documents
b)      Independent of JAVA
c)      Implementing permanent authentication method
d)      Featuring single interface for both filing and viewing of documents
Additional Information (retrieved directly from
www.uspto.gov
)
Information about recent and upcoming eMod features based upon feedback received
Information about the eMod Text Pilot Program and eMod Patent Center Beta Program
Information about how to provide input and collaborate on the eMod Project via IdeaScale
Information about eMod events, including focus sessions, info sessions, user sessions, and more
Contact Information (retrieved directly from
www.uspto.gov
)
For questions or comments regarding the eMod initiative or the eMod IdeaScale (link is external) website, please contact eMod@uspto.gov (link sends e-mail).
For questions or technical issues regarding how to use the current tools, EFS-Web and PAIR, please contact the Patent Electronic Business Center at ebc@uspto.gov (link sends e-mail) or 866-217-9197. Mon. – Fri., 6 a.m. – 12 a.m. ET.