Use of Drug in a Difficult-to-Treat Disease Not Obvious Without Proof of Efficacy
October 24, 2019
Posted by:

Sharla Flohr, Ph.D.

Category:

Blog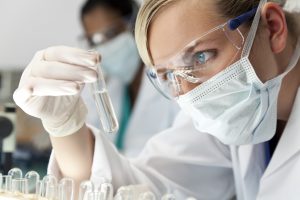 In a decision issued recently, the Federal Circuit reversed the Patent Trial and Appeal Board's (PTAB) decision that OSI's patent covering a method of treating non-small cell lung cancer (NSCLC) with erlotinib (marketed as Tarceva®) is obvious over three pieces of prior art that suggested use of erlotinib in NSCLC but provided no data demonstrating efficacy.
Background
Apotex filed an inter partes review request with the PTAB arguing that claims 44-46 and 53 of OSI's patent (U.S. 6,900,221) were obvious over the disclosure of U.S. Patent No. 5,747,498 (Schnur) in view of a review article (Gibbs) or OSI's own prior 10-K SEC filing. Claim 44 of the '221 patent is reproduced below:
44. A method for the treatment of NSCLC (non small cell lung cancer), pediatric malignancies, cervical and other tumors caused or promoted by human papilloma virus (H[P]V), Barrett's esophagus (pre-malignant syndrome), or neoplastic cutaneous diseases in a mammal comprising administering to said mammal a therapeutically effective amount of a pharmaceutical composition comprised of at least one of N-(3-ethynylphenyl)-6,7-bis(2-methoxyeth-oxy)-4-quinazolinamine, or pharmaceutically acceptable salts thereof in anhydrous or hydrate forms, and a carrier.
Upon review of the prior art cited by Apotex, the PTAB found OSI's claims were obvious. In particular, the PTAB found that Schnur discloses all of the limitations of the claims except for the treatment of NSCLC. The PTAB found that the disclosure in OSI's 10-K that erlotinib targeted a variety of cancers including NSCLC and that erlotinib had entered Phase II clinical trials would have provided one of ordinary skill in the art with reasonable expectation of success that erlotinib could be used to treat NSCLC. Similarly, the PTAB found that Gibb's disclosure that "[ZD-1839 and erlotinib] appear to have good anti-cancer activity in preclinical models, with an acceptable therapeutic index particularly in patients with non-small cell lung cancer" rendered the claims obvious when combined with Schnur.
Federal Circuit Reversal
The Federal Circuit disagreed, emphasizing the "highly unpredictable" nature of treating NSCLC. Specifically, the court noted an over 99.5% failure rate of drugs entering Phase II clinical trials for NSCLC treatment. Therefore, the court concluded mere statements that erlotinib could be used to treat NSCLC without data establishing efficacy of the treatment were not sufficient to establish a reasonable expectation of success. In this case, the court found that "[t]he record does not contain any clinical (human) data or pre-clinical (animal) data. It does not even include in vitro (test tube) data regarding erlotinib's effect on NSCLC." Given the lack of evidence that erlotinib is efficacious against NSCLC, the Federal Circuit reversed the PTAB's decision that OSI's claims are obvious.
However, the court also explained that proof of efficacy is not always required:
To be clear, we do not hold today that efficacy data is always required for a reasonable expectation of success. Nor are we requiring "absolute predictability of success." We conclude only that, on these particular facts, a reasonable fact finder could not find a reasonable expectation of success.
Despite this caveat, the decision raises the bar for establishing obviousness of claims directed to methods of treating diseases that have proven historically difficult to treat.