The Risk of Publishing or Disclosing before Patenting – Lessons Learned
February 19, 2019
Posted by:

David Vanik, Ph.D.

Category:

Blog
For many years, a persistent slogan in the field of science has been to "Publish or Perish." However, with the recent emphasis on commercialization and the increasing number of collaborations between academia and scientific companies, a new 21st century paradigm of "Patent or Perish" has emerged.
The need for a consistent stream of publications is essential for advancing science. However, rather than thinking about "publications" as being limited to peer-review journal articles or conference presentations, the time is ripe to add patent applications to this category. The scientific community still benefits because information contained in patents eventually becomes part of the public domain, like in peer-review journal articles. At the same time, the institution or company pursuing a patent has an opportunity to commercialize or secure investment related to the disclosed concept or data. In many instances, pursuing a patent may provide for the dual benefit of public disclosure while preserving the option of monetization.
When to file for a Patent Application – A Cautionary Tale
Not only is the decision to pursue a patent important, but the timing of when to file for a patent application is also essential.
Publication in Peer-Review Journal Article
Take the case of Dr. Rubin and colleagues at the Department of Biological Sciences of Fordham University (see Rubin v. General Hospital Corporation, No. 2011-1439 (Fed. Cir. Mar. 28, 2013)). Dr. Rubin's research focused on determining genetic mutations that cause the inherited disease Familial Dysautonomia (FD). On December 20, 2000, Dr. Rubin submitted a manuscript entitled "Familial Dysautonomia Is Caused By Mutations of the IKAP Gene" to the Editor of the American Journal of Human Genetics. Id. at 4. When submitting the manuscript, Dr. Rubin wrote to the editor and provided the names of four scientists to review the manuscript. Id. Dr. Rubin specifically wrote the editor and suggested that Dr. Gusella not receive the peer-review manuscript as Dr. Gusella was considered a competitor in the specific area of the publication. Id.
Despite Dr. Rubin's suggestion, the editor forwarded the peer-review journal article to Dr. Gusella on December 22, 2000. Id. Dr. Gusella declined review of the article on December 28, 2000. Id. On January 22, 2001, an article by Dr. Rubin and a separate article by Dr. Gusella were both published on the same day in the American Journal of Human Genetics. Both articles identified the same major and minor FD mutations. Id. at 5.
Patent Filing
Even though a peer-review journal article was submitted for review on December 20, 2000, Dr. Rubin and colleagues waited until January 17, 2001 to file provisional patent US 60/262,284. Their competitors, Dr. Gusella and colleagues, filed for provisional patent US 60/260,080 eleven days earlier on January 6, 2001. Dr. Gusella and colleagues were awarded patent US 7,388,093, issuing on June 17, 2008.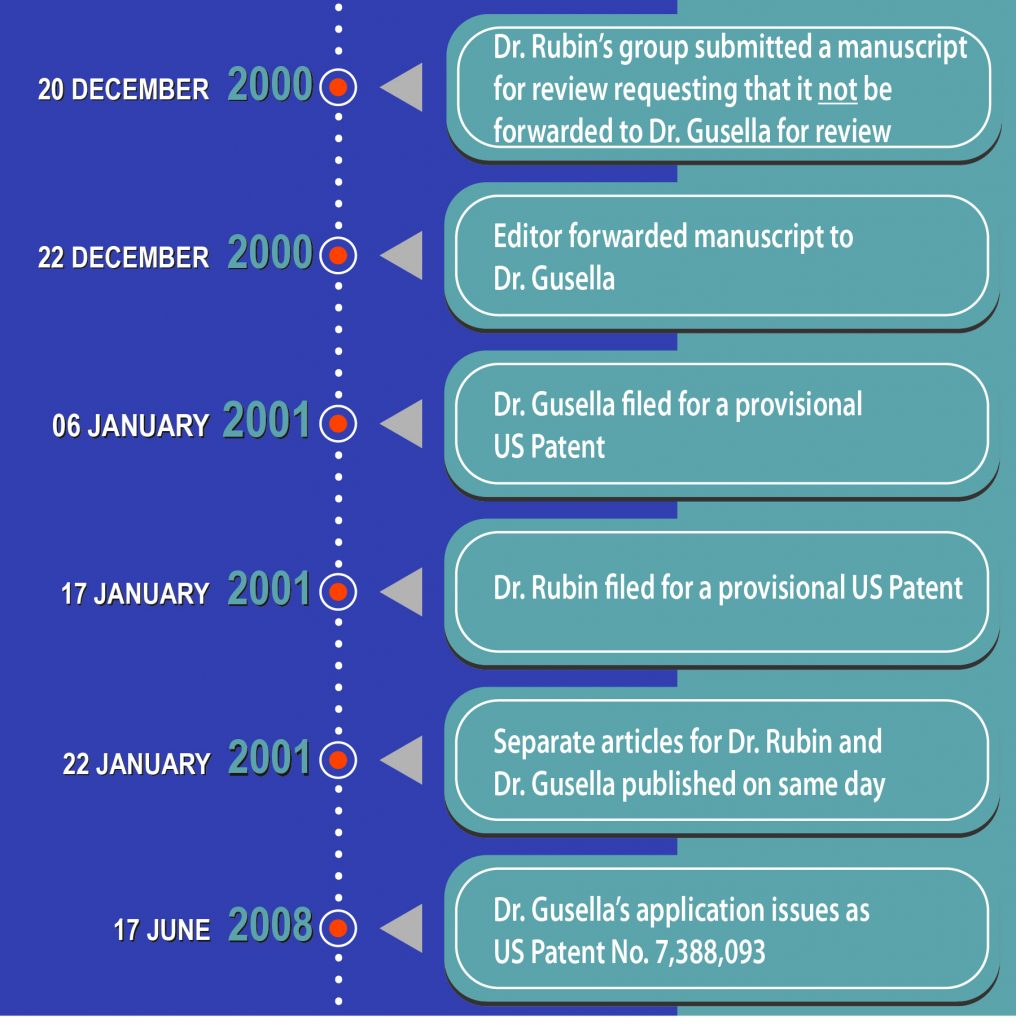 What ensued next was a patent dispute that made its way through district and appeals courts. Dr. Rubin asserted that he should be named as an inventor in the Gusella patent by virtue of the article forwarded to Dr. Gusella on December 22, 2000 by the editor of the American Journal of Human Genetics. Id. at 6 – 7. Dr. Rubin asserted that the content of this article formed the basis for Dr. Gusella's patent. However, the courts ultimately decided against Dr. Rubin and found that there was not enough evidence to add Dr. Rubin to the Gusella patent. Id. By filing a patent application before Dr. Rubin and prior to publishing, Dr. Gusella and colleagues were awarded the patent.
Takeaway and Strategic Considerations
In rapidly evolving scientific fields, such as biotechnology, competitors working on the same technology in parallel is commonplace. Understanding the landscape of potential competitors while trying to stay one step ahead takes resources and organization. Strategic questions such as when to publish, when to seek a patent, and how to disclose information to a third party may be complicated and require careful legal consideration.
While the alignment of facts in the Dr. Rubin case may be rare, they highlight the importance of exercising caution and assessing risk when deciding to publish or file a patent application. In many circumstances, the simplest solution is to file a patent application prior to publishing or disclosing the subject matter to a third party. However, such an approach is not always practical and developing further strategies of how to limit risks when filing a patent application is warranted.
Check out our featured story on BioBuzz and subscribe to our blog.