Swiss-Army Executive: The Chief Intellectual Property Officer
March 7, 2019
Posted by:

Brennen Baylor

Category:

Blog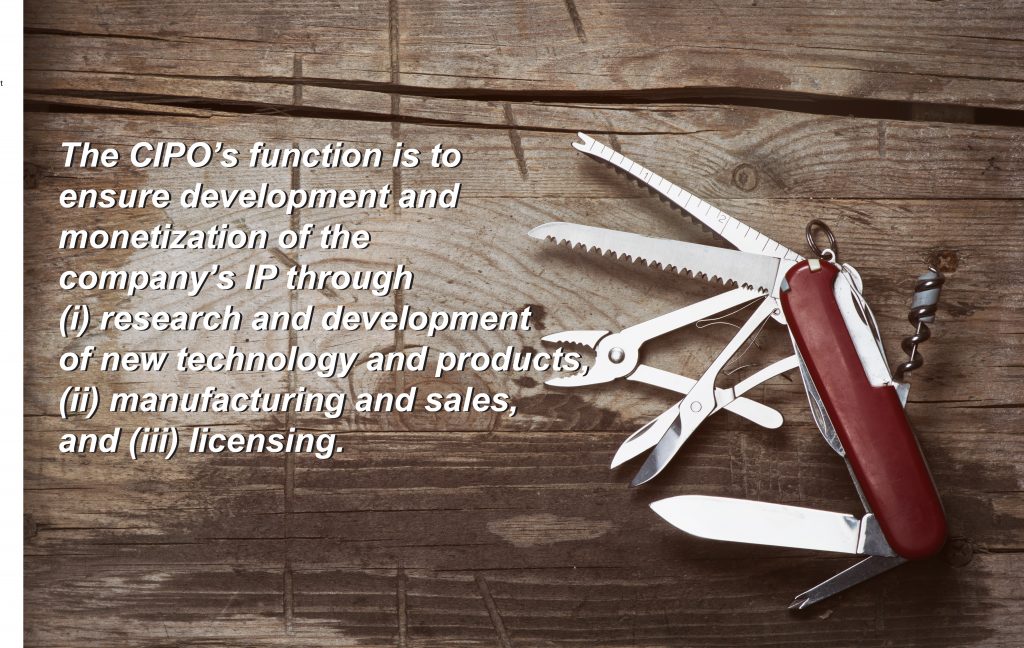 Contributors:  Brennen P. Baylor and Destiny Davenport, PhD
It is estimated that intangibles account for roughly 80% of a company's value and is an especially vital selling point for startups looking for funding. However, entrepreneurs might not fully understand the value of their IP or how best to merge their IP strategy with their over-arching business plan. A chief intellectual property officer ("CIPO") straddles the line between patent strategy and business strategy.
One of the biggest questions facing companies, both large and small, is who drives IP strategy.  Larger organizations tend to concoct a catch-22 for themselves: the IP group thinks business should drive IP and the business thinks IP should drive the business. When management is asked to comment on IP strategy, they likely defer to IP counsel; however, it is difficult for IP counsel to make unilateral decisions regarding IP portfolios when the direction and priorities of the business are not clearly delineated.  IP counsel can, of course, look at overall business goals (e.g., target products) and assess IP potential in key market areas, but business input is required for an overall go-to-market strategy and product life cycle management.
A CIPO works in tandem with other executives, including the CEO, CFO, chief operations officer ("COO"), chief innovation officer ("CINO"), chief technical officer ("CTO"), and chief legal officer ("CLO" or commonly "general counsel"). The CIPO's duties and expertise overlap, in part, those of these executives and others. The CIPO should have broad experience in all aspects of IP, and especially in patent prosecution, litigation, and licensing.
The CIPO's function is to ensure development and monetization of the company's IP through (i) research and development of new technology and products, (ii) manufacturing and sales, and (iii) licensing. These three aspects of the CIPO's role are traditionally within the purview of the CTO, COO, and general counsel, respectively.
While the CTO is responsible for overseeing the research and development of new technology, such new technology may ultimately not be of commercial value to the company or be in furtherance of sales. Accordingly, the CIPO can bridge the gap between CTO and COO to ensure that both product development and product sales are congruous. Furthermore, general counsel simply cannot be expected to understand the more technical aspects of a company's product development or patent strategy. All pending or prospective litigation, of course, would be in the purview of the general counsel, but IP coverage and strategy is, generally, somewhat of a blind spot for general counsel.
Why appoint a CIPO, though, when a company has hired outside patent counsel? Quite simply, a CIPO is not a replacement for outside patent counsel, nor is outside patent counsel a replacement for a CIPO. A comprehensive patent strategy extends far beyond successful prosecution of a patent. And, although outside counsel provide opinions on matters including validity and freedom to operate, the CIPO is able to act upon the outside counsel's advice to implement both patent strategy and business strategy.
Moreover, in-house patent counsel does not serve the same function as a CIPO. Although both concern themselves with prosecution and monetization, the in-house counsel are not executives. The CIPO, however, is fluent in both IP and C-suite functions. The CIPO can far more effectively develop and implement IP strategy with the endorsement of other executives/directors.
CIPOs serve as liaisons between seemingly conflicting groups within, and functions of, a company. CIPOs thus take a holistic approach to the company's operations and needs. A CIPO directly influences the direction her company takes if IP is involved in any regard, not simply for purposes of prosecution and monetization of new IP and/or enforcement of existing IP. For example, CIPOs participate in the early stages of mergers and acquisitions and when developing tax plans. Furthermore, shareholder value is substantially increased (especially for small- and medium-sized companies) when the company has a well-documented, concrete patent strategy which includes plans for monetization.
In view of the advantages of appointing a CIPO, it may come as a surprise that the appointment of a CIPO is not a given. Why do more small- and medium-sized enterprises ("SMEs") not have CIPOs guiding their patent strategies? Simply, it can be difficult luring a qualified patent practitioner away from other opportunities to help an SME that has yet to prove the value of its IP. Additionally, SMEs may be deterred because hiring a CIPO can be expensive, given the CIPO's requisite experience.
One compromise for SMEs is the hiring of a so-called "fractional" CIPO. Under this model, a fractional CIPO would help an SME develop its patent strategy and identify patent-related tasks that would enhance shareholder value on a fee-for-service basis (amounting essentially to hiring a consultant with specialized know-how). A fractional CIPO would not require continuous employ but would only be consulted at certain benchmarks for the SME (e.g., when new technology has been developed, when the SME is looking to ramp up manufacturing and sales, or when new funding has been obtained). A fractional CIPO would likely also have any specialized software or other resources already available, which the SME does not need to obtain and keep on hand.
Marrying an evolving patent strategy and an established business strategy is complex but vital to a company's success, regardless of size. Whether the solution is the appointment of a CIPO who is fluent in both technology and business or periodic consultation with a "fractional" CIPO depends on a company's size, established practices and strategies, and company culture. In any case, however, IP and business strategies are inextricably intertwined and cannot be thought of as separable.