Mobile Office: The Future or Overrated?
August 13, 2018
Posted by:

Lynn Drummond, David Vanik

Category:

Blog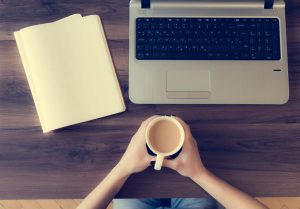 Alternative work arrangements, such as mobile offices, have become increasingly common over the last few years.  In this post, we will explore potential advantages and disadvantages of mobile offices and provide insight regarding the merits of an alternative office arrangement – coupling mobile offices together with strategically located physical offices.
Interaction with Colleagues
A perception of mobile offices is that the physical separation between employees prevents collaboration and workplace camaraderie.  While this may have been true previously, technology has arguably closed this gap.  For example, many products (some of them free) allow for individual and group messaging, video chats, telephone calls, and other connected interaction.  Two of these products, Microsoft's "Teams"[1] and Slack Technologies' product "Slack" are relatively new and have only recently gained wide scale workplace acceptance.  These programs allow for instant and organized communication on an individual level, group level, or company/firm wide level.
In our experience, the utilization of technology and applications, such as "Teams," can help foster communication and increase collaboration, even when employees physically work from different locations.  Such technology can allow for weekly video meetings, not unlike those that would normally take place in a conference room in an office.  Additionally, daily accountability and work flow can be monitored and discussed by creating a daily "stand-up" or "roll call" procedure.  That is, once a day everyone on a team or project messages what they are working on "today" and what they have accomplished "yesterday."  Any issues or obstacles can also be raised in the daily posting and addressed if needed.  This helps to ensure that the correct amount of work is being distributed to a given group or project and spots circumstances where a team member may have too much or too little work.  It further increases communication and collaboration between groups on a daily basis.
Work Place Efficiency
In addition to technology advancements that help improve collaboration and efficiency between employees located in different places, reducing the time and stress of a daily commute and increasing flexibility are two advantages that are worth considering when evaluating the merits of a mobile office.
On average in the U.S., an individual spends about 52.2 minutes each day commuting back and forth to work.[2]  This is higher in urban locations, such as Washington, D.C., where the average worker spends about 68.8 minutes for a daily back and forth work commute.[3]  Reducing the time and energy expended on a daily commute can help efficiency by allowing this time to be used for work and increasing the general happiness of employees.  In our experience, commute reduction has led to increased productivity because employees are generally happier when the work day begins and ends.  This is largely the result of avoiding the daily grind of a home to work commute.
Another advantage of a mobile office is the ability to easily adopt to client needs, including travel.  This is especially helpful in a largely transactional legal practice, such as our practice at MMWV, as there may be a need for regular travel to client sites and government agencies, such as the United States Patent and Trademark Office (USPTO).   This allows for a seamless transfer from mobile office to client or agency site without skipping a beat in a way that would likely not be as efficient with a centralized traditional office as "home base".
Combining Mobile Office with Physical Office Locations
Depending on the company or practice type, the sweet spot between having a mobile office and a physical office may lie somewhere in the middle.  While in our experience a predominately transactional legal practice lends itself to mobile office utilization, having strategically placed office locations is helpful for in-person meetings and certain projects.  By having two dedicated offices that all employees can use anytime, along with fully set up mobile offices for each employee, we have found that employees who would like to can go to the office when they need, with overall fewer distractions.
Our Experience
When MMWV IP Law was founded, we were interested in ways of investing in technology to better and more efficiently serve clients while providing a sustainable and supportive work environment for every employee.  We found that allowing employees to work from a mobile office provides them with a sense of empowerment while increasing efficiency and general happiness.   In our experience, by investing in technology and having two strategically placed physical office locations, we have not seen a reduction in collaboration or interaction relative to daily traditional physical office work environments.
Our employees are our most valuable asset.  To that end, and with an eye on retaining and growing with our employees, we feel that a mobile office set up buttressed by strategically placed offices is a sustainable option for a transactional legal firm.
[1] https://www.microsoft.com/en-us/microsoft-365/blog/2017/03/14/microsoft-teams-rolls-out-to-office-365-customers-worldwide/
[2] https://www.census.gov//library/visualizations/interactive/travel-time.html (as of December 7, 2017)
[3] Id.