MMWV celebrates three years of successes
January 16, 2019
Posted by:

Lauren A. Pogue

Category:

Blog, Press Release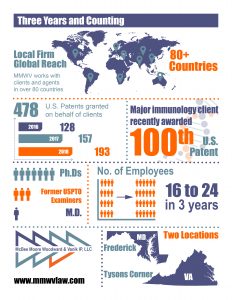 FREDERICK, Md. (January 17, 2019) – In January 2016, four founding partners and twelve employees came together to form a new patent law firm with improved client service as the ultimate goal: McBee Moore Woodward & Vanik IP, LLC ("MMWV"). Three years later, that firm is thriving. Since its formation, MMWV has focused on the utilization of technology to streamline workflows and more efficiently organize the processes and infrastructure associated with a predominately transactional patent practice. The result has been improved client customer service and a work-friendly environment that allows employees to flexibly work remotely.
MMWV has grown to 24 employees in three years.  Seven of MMWV's practitioners have Ph.D.s in a variety of technical specializations, one practitioner holds an M.D degree, and three practitioners are former USPTO Examiners.
With two office locations, one in Frederick, Maryland and another in Tysons Corner, Virginia, MMWV is strategically positioned to provide efficient and streamlined services to current and potential clients all over the world.
To the right are additional statistics about some MMWV achievements over the last three years. Questions can be directed to Lauren Pogue, Marketing Specialist or Cindy Thomas, Firm Administrator.