Happy Halloween! A Brief History and a Few Patents associated with Halloween
November 6, 2019
Posted by:

Lauren A. Pogue

Category:

Blog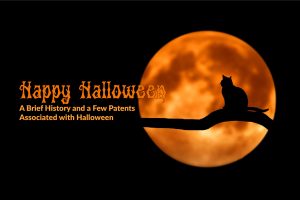 Here is a quick look at the history behind Halloween and a few fun inventions that we all turn to during the season.
Halloween: A History
Halloween dates back 2,000 years ago to an ancient Celtic festival known as Samhain (pronounced sow-in). Samhain was the celebration of the end of the year, the end of harvest and the welcomed in winter. According to the Celts, October 31 was the night that the line blurred between the living world and the world of the dead.
As the centuries passed, the festival of Samhain evolved as the ruling empires changed. The Romans brought their own mythologies and celebrations, including adding a day of celebration to honor the various saints and martyrs of the Catholic faith. All Saints' Day is observed on November 1 and blended with Samhain.
All Hallows Eve, the day before All Saints' Day, was eventually shortened in the 18th century to Halloween thanks to the Scottish term for the holiday, All Hallows Even.
To celebrate the holiday now, we dress as ghouls and other scary creatures, bob for apples in honor of the Roman goddess Pomona, go trick-or-treating, and carve pumpkins.
Innovative Halloween Patents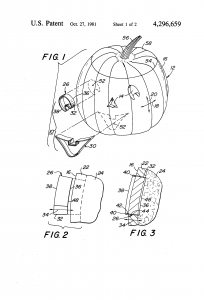 Speaking of carving pumpkins, here is a handy tool to make carving easier for everyone. In 1979, Christopher A. Nauman of Frederick, Maryland patented (U.S. Patent No. 4,296,659A) a set of cookie-cutter-like tools that allowed the user to create an easy jack-o-lantern face.
Masks have been used for centuries during festivals. One of the first masks patented in the United States is a very interesting jack-o-lantern helmet (U.S. Patent No. 737,371 A) in August of 1903 by John J. Du Ket. Du Ket used semitranslucent cardboard and feathers to create the helmet.
We hope everyone enjoyed Halloween and will keep some of the inventions in mind that make Halloween such a great holiday.
---
Source
History.com Editors, "Halloween 2019," History.com, Updated October 31, 2019, Original November 18, 2009.