eCommerce Modernization is here…almost
October 30, 2018
Posted by:

Sean Padua

Category:

Blog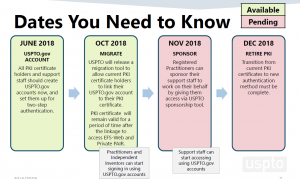 The USPTO has started rolling out the authentication updates for their eCommerce Modernization (eMod) project.  This part of the eMod project is hoping to make the sign in process much easier, secure,  and simplified and so far, it looks that way; after we get through a few hurdles as illustrated to the left.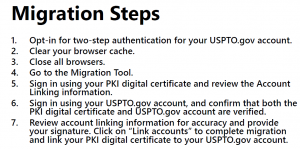 While it can look overwhelming, especially migrating the PKI certificate, it is actually an easy process as the USPTO has developed a tool that will walk you through the process.  To the right are the steps discussed during a recent USPTO webinar.
Here is the link the migration tool.
Once this is complete, you will no longer need to use your PKI certificate, but will need to use the two-step authentication. Do not get intimidated, they have a couple of ways you can accomplish this, either via app (i.e. DUO mobile, Windows Authenticator, or Google authenticator to name a few), email, or by phone to receive the code for two-step authentication.
This whole process has been designed to make logins more secure.  Support staff can no longer use a PKI certificate once it has been migrated. They will be able to login and do work for an attorney once they have created a USPTO.gov login and are also sponsored by a PKI certificate holder. Currently, there are no limitations as to how many support staff a PKI certificate holder can sponsor, however they will not be able to begin sponsoring support staff until after the first of November.
PKI certificate logins will be possible until December 31, 2018, after which the program will be retired and logins via PKI certificates disabled.  The big take away from this is to migrate as soon as possible so that support staff can be sponsored and there is minimal impact on workflow.
More information can be found at: https://www.uspto.gov/AuthenticationChange.