Don't Let Excess Claims Fees Break the Bank
July 18, 2019
Posted by:

Destiny Davenport

Category:

Blog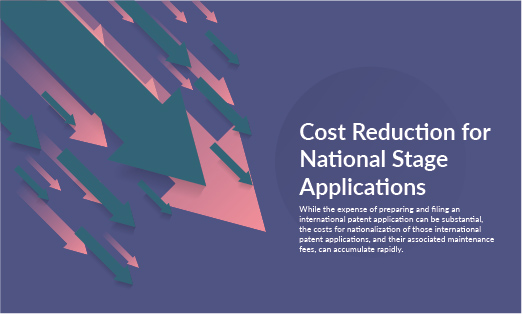 While the expense of preparing and filing an international patent application can be substantial, the costs for nationalization of those international patent applications, and their associated maintenance fees, can accumulate rapidly.  However, there are multiple ways in which applicants can either substantially reduce or defer expenses in various PCT member countries, including by reducing the number of claims presented at the time of filing or before the time of examination to minimize excess claims fees.
The United States as an Example
 In the United States Patent and Trademark Office, excess claims fees are due for each independent claim over 3 and each total claim in excess of 20.1  If multiple dependent claims are presented, each multiple dependent claim is counted as the number of claims from which it depends.  Consider the following example:
A composition comprising component A.
The composition of claim 1, further comprising component B.
The composition of claim 1 or claim 2, further comprising component C.
A method for performing task X using the composition of claim 3.
In this example, claim 3 is counted as two claims, as is claim 4 since it depends from a multiple dependent claim.  Therefore, in the above example, the total claim count is six.  In addition to the excess claims fees that may be incurred when the total claim count exceeds 20, multiple dependent claims also incur a multiple dependent claim fee.  
If additional time is necessary to prepare the reduced set of claims, the applicant can file the national stage application without payment of the additional fees.  The USPTO will issue a Notice of Insufficiency which will which sets a 2-month extendable term for either canceling the excess claims (and/or deletion of multiple dependencies) or payment of those fees.2 
PCT Member Countries Imposing Excess Claims Fees
Many other PCT member countries impose excess claims fees, either at the time of national stage entry or before the start of examination.  See, Table 1.  Depending on the number of claims being considered, the costs can be quite significant in countries such as Europe, Eurasia, and the US.  In most countries imposing these fees, the claims can be amended prior to the time that the fees are imposed.  However, certain countries will not allow amendments prior to the examination and, therefore, there is no opportunity for cost savings by amending the claims.  Applicants should also keep in mind that some countries require full translations of the amended claims, which can offset the savings.  Consultation with local counsel prior to considering any amendments is recommended.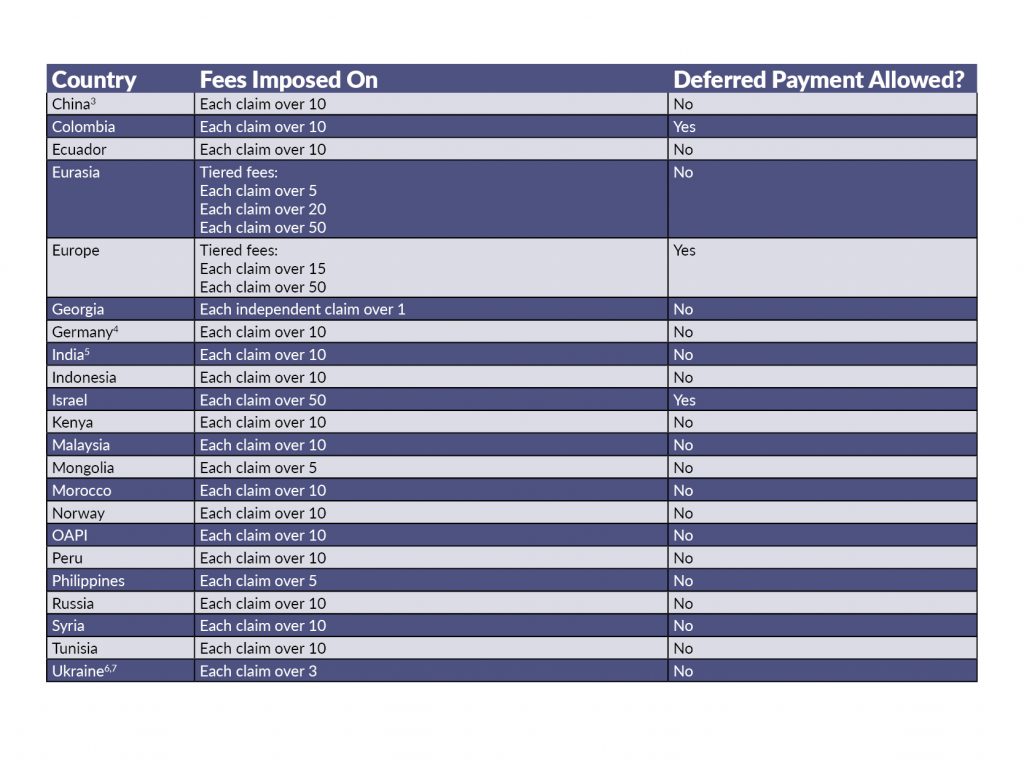 Footnotes
See 37 CFR § 1.493(g)

Claims cannot be amended at the time of national stage entry

Claims may not be amended at the time of national stage entry

Claims may only be deleted at the time of national stage entry

The fee structure is reduced if the applicant is the inventor

Claims may not be amended at the time of national stage entry