Back to School!
August 19, 2019
Posted by:

Susan McBee

Category:

Blog
Back to School season is upon us again.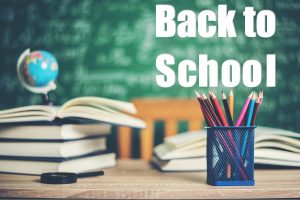 At #MMWVIP we took a poll and even though we only have less than 25 employees, we have children every single grade level starting with kindergarten all the way through a senior in college. The only year we are missing is a junior in high school. We are wishing everyone heading back to school a very successful year!
And for those who are not heading back to school, we located a patent you might be interested in.
US Patent No. 4,368,889 entitled: GAME APPARATUS FOR SIMULATING SCHOOL EXPERENCE. According to the Abstract, the game includes "a game board having an outer path (the Promotion Path) around the periphery thereof from which a plurality of inner winding paths (School Paths) may be entered and exited. Associated with each School Path is a plurality of Benefit and Hazard Cards from which a player must draw when his playing piece lands on certain designated spaces in the School Paths.
Additional spaces in the School Paths permit a player to direct another player to draw from a plurality of Influence Cards. Additional categories of cards (Promotional and Backtrack) are drawn by players at designated times, and movement of player pieces is dictated, in part, by the rolls of the dice. Additional hazards can be positioned by the players."