Accelerating U.S. Patent Examination Based on Inventor Age
August 22, 2019
Posted by:

David Vanik, Ph.D.

Category:

Blog
Navigating the USPTO Examination Backlog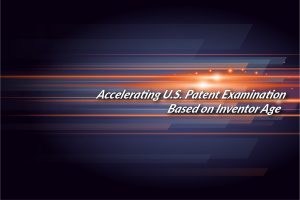 With a backlog of over 500,000 unexamined patent applications at the United States Patent and Trademark Office ("USPTO") pending for an average time of about 16 months prior to receiving a first Office Action1, Applicants may have a need to expedite examination in certain situations.  While many fast track examination procedures come with an additional financial cost, such as the USPTO's accelerated "Track One" program2, the USPTO provides for other programs that allow for accelerated examination without an additional fee.  One such program involves filing a petition to make an application "special" based on inventor age, thereby reducing the average time that it takes for an Examiner to initially review the application.
Making an Application Special Based on Age
The process for qualifying for expedited examination based on age is relatively straightforward. In order to qualify for expedited examination based on the age of at least one inventor, an Applicant needs to provide evidence that at least one inventor is at least 65 years of age.  This may be accomplished by providing a statement (i) by an inventor that he/she is 65 years or older or (ii) by an agent or attorney certifying that an inventor is at least 65 years or older and that documentation, such as a passport, birth certificate, or a driver's license, has been consulted.3  It is noted that only one inventor on the patent application needs to meet the petition requirements in order to qualify for expedited examination.  There is no requirement to submit the petition at the time of filing the application.  The petition to make special based on age may be filed any time, though petitions filed after issuance of a USPTO Office Action will likely not result in expedited examination as the application has already been examined.
Statistics and Granting of Petition to Make Special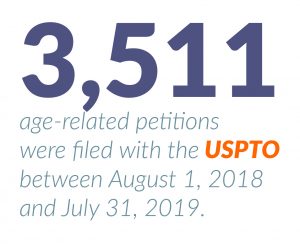 3,511 age-related petitions were filed with the USPTO between August 1, 2018 and July 31, 2019.  2,127 e-petitions were filed to make special on the grounds of age or health and 100% were automatically granted when submitted.  In the same time period, 1,384 non-e-petitions were filed for the same purpose and 93% were granted with an average pendency of 80 days.4  Based on these statistics, filing an e-petition to make an application special on the basis of age seems like a preferred route of submission relative to filing a standard non e-petition.  
In summary, given the straightforward requirements, high petition grant rate, and rapid petition grant time, jumping the patent application pendency line and accelerating prosecution may make sense for those who qualify.
(1) https://www.uspto.gov/dashboards/patents/main.dashxml, statistics as of August 2019
(2) https://www.uspto.gov/forms/sb0424.pdf
(3) See, for example, 37 CFR 1.102(c)(1) and MPEP 708.02 (II). Form available at https://www.uspto.gov/sites/default/files/documents/sb0130.pdf
(4) https://www.uspto.gov/corda/dashboards/patents/main.dashxml?CTNAVID=1009