April 25, 2019
Posted by:

C. Richard Lohrman

Category:

Blog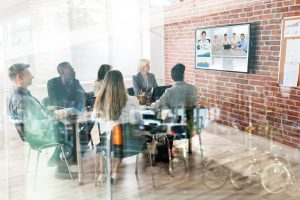 Interviews between an applicant and a United States Patent and Trademark Office (USPTO) examiner are often helpful to advance the prosecution of a patent application.  Interviews can be conducted on the telephone or in person. 
Furthermore, the Manual of Patent Examining Procedure (MPEP) Section 713.01 I. states:
"Face-to-face interviews may be accomplished via video conferencing or in-person. The physical location of either party participating in an interview should not limit the USPTO's ability to hold face-to-face interviews."
Face-to-face interviews can be advantageous, especially if an applicant anticipates sharing documents with the Examiner.  Interviews can take place at the Patent Office outside of Washington, D.C. as well as in the satellite offices located in Detroit, Denver, San Jose and Dallas. Face-to-face interviews can also be conducted remotely using WebEx video conferencing software, provided by the USPTO.  This is especially convenient when the interview is with one of the approximately 5,000 examiners who work remotely, and/or when applicants, inventors, or patent attorneys are in different places, including outside of the U.S. The MPEP provides for this convenience in Section 713.01 I(iv) stating:
"When an examiner is working remotely from a USPTO campus, there may not be an opportunity to have an in-person interview. The examiner shall accommodate an applicant, attorney, or agent's preference for an interview via telephone conversation, video conference, electronic mail, or electronic instant message system using USPTO-based collaboration tools.… Alternatively, an applicant, attorney, or agent may request to have an interview on a USPTO campus while the examiner is remotely participating via the phone or video conference. In this instance, appropriate arrangements will be made on the USPTO campus for equipment and/or internet access to facilitate the interview."    
The interview can be arranged with an examiner directly over the phone or online via the USPTO Automated Interview Request (AIR) tool.  The site allows for scheduling of interviews as well as sharing of documents such as draft amendments and accompanying remarks.
Prior to the start of the video conference, the USPTO will send an email with a WebEx online meeting invitation.  Opening the invitation will provide the user with instructions for joining the meeting.  The video conference is initiated by the Examiner.  Subsequent prompts enable the user to install the software (if not already installed) and join the meeting.  As with any examiner interview, preparation is vital. Careful review of the Office Action, cited art, and consideration of possible amendments is recommended.  In the case of video conferences, exhibits, presentations, samples, and/or demonstrations of the invention are often helpful.
Examiners are trained in video conferencing and the USPTO employs technical specialists to handle any technical problems that may arise.  In our experience, the technology used by the USPTO is quite user-friendly and video interviews are an advantageous way to expedite prosecution of patent applications.